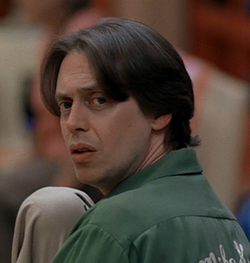 Steve Buscemi is an American actor from Brooklyn, New York. He was born on December 13, 1957, and has appeared in many motion pictures, including five Coen Brothers films thus far. In the early 1980s, Buscemi served as a firefighter with the New York City Fire Department. The day after September 11, 2001, Buscemi returned to his old firehouse after the terrorist attacks and volunteered for recovery duty, working 12-hour shifts and refusing to give interviews or have his picture taken. Buscemi and his wife, Jo Andres, have one son, Lucian.
Coen Brothers credits
Edit
External links
Edit
Ad blocker interference detected!
Wikia is a free-to-use site that makes money from advertising. We have a modified experience for viewers using ad blockers

Wikia is not accessible if you've made further modifications. Remove the custom ad blocker rule(s) and the page will load as expected.