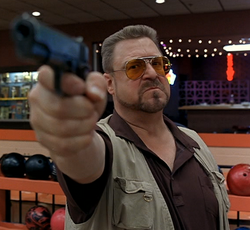 John Goodman is an American actor from St. Louis, Missouri, and has long resided in New Orleans, Louisiana. He was born on June 20, 1952, in the St. Louis suburb of Affton. Perhaps best known for his role in the television series Roseanne, Goodman has also appeared in many motion pictures, including six Coen Brothers films thus far. He is tied with Steve Buscemi for most collaborations with the Coens. He has stated he very much enjoys working with them, to the point he feels a "twinge of envy" whenever they cast a movie without him, and his favorite personal role of all time is that of Charlie Meadows in Barton Fink. He does not generally like watching himself on screen.
Feature Debut: Eddie Macon's Run (1983)
Breakout Film: True Stories (1986)
Coen Brothers credits
Edit
External links
Edit
Ad blocker interference detected!
Wikia is a free-to-use site that makes money from advertising. We have a modified experience for viewers using ad blockers

Wikia is not accessible if you've made further modifications. Remove the custom ad blocker rule(s) and the page will load as expected.