"If it was never new, and it never gets old, then it's a folk song."
―Llewyn Davis

Inside Llewyn Davis is a 2013 black comedy/drama following homeless folk musician Llewyn Davis after the death of his musical partner. 
It won the Grand Prix as Cannes in 2013 as well as many other awards and recognition
Oscar Isaac as Llewyn Davis
Carey Mullian as Jean Berkey
Justin Timerlake as Jim Berkey
Adam Driver as Al Cody
John Goodman as Roland Turner an eccentric Jazz musician and heroin addict.
Garrett Hedlund as Johnny Five Roland's quiet, chain smoking, wannabe beatnik poet valet.
Ethan Phillips as Mitch Gorfein
Robin Bartlett as Lillian Gorfein
Marcus Mumford and Chris Eldridge as Mike Timlin Llewyn's recently deceased musical partner who killed himself by jumping off the Washington Bridge prior to the movie starting.
Stark Sands as Troy Nelson
Max Casella as Pappi Corsicato
Production
Edit
Soundtrack
Edit
Folk Music.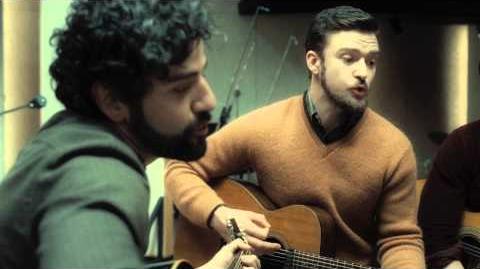 Awards and Nominations
Edit
a lot.
The only time the title of the movie is shown is when Llewyn is looking at his solo album cover
Adam Driver and Oscar Isaac would collaborate on a movie together again in Star Wars: The Force Awakens (2015)
Garrett Hedlund and John Goodman have previously worked together in James Wan's Death Sentence.
Mike Timlin voiced by Mumford and Sons' singer Marcus Mumford and portrayed physically by Chris Eldridge. He is only seen in the movie on one of Album covers
References
Edit
https://en.wikipedia.org/wiki/Inside_Llewyn_Davis
Ad blocker interference detected!
Wikia is a free-to-use site that makes money from advertising. We have a modified experience for viewers using ad blockers

Wikia is not accessible if you've made further modifications. Remove the custom ad blocker rule(s) and the page will load as expected.